Greetings and salivation's;
I am Roy "HeadTrainer" I have been a professional K-9 "dog trainer" for over 40+ years. I graduated Valedictorian, from The American K-9 Training Center on November 16th 1979. Under the provisions of the state plan for Vocational Technical Education. records of which are on permanent file in our registry located in Nashville Tennessee.
Here at Nu Dog K-9 Center, we do ALL of our training on a one-to-one basis. That way we can and will give you the individual attention that you and YOUR dog need and I believe deserve.
Some of our services are Basic, Intermediate and Advanced dog and handler training. I am very involved with AKC® and UKC® obedience competition for the, Companion dog,  "CD", Companion Dog Excellent,  "CDX", Utility Dog,  "UD" and the Utility Dog Excellent,  "UDX" .
We do individualized instruction for AKC® Rally competition, all levels Novice, Intermediate, Advanced, Excellent, Masters and the RACH title.
We also do the very Basic 8,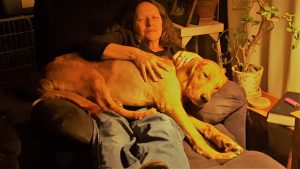 Heel
Stay
Stand
Down
Down Stay
And the true meaning of the word NO
Which is a well rounded BASIC education for YOU and YOUR dog.
Do you have special needs? We do all manner of problem solving, and because ALL of our training is done on a one-to-one basis, I can and will design a training program just for you and YOUR dog.
Scratching
Mouthing
Excessive chewing
Nipping
Biting, you and others
Fear biting
Protest biting
Bite Inhibition Training
Teething
Excessive Whining
Excessive Barking
Name recognition
Doesn't pay attention to you
Jumping on you and others
One of my customers favorite classes is the "Housebreaking, click to activate" class. It is mainly for pup's 8 to 16 weeks old, however I can modify it for older "problem", and "rescue" dogs.
I also ask that if I ever have content that captures your interest, that you get involved within my site blog. I love to talk about dog training and if you have anything interesting that you want to share or any opinions of any of the content I have created on my site please write about it in the classes. I welcome feedback in every form.
If you ever need any feedback or support regarding your companions training, I would be more than happy to connect. Simply leave your comment or question on the contact me page and make sure to visit my site regularly as I am always updating information that I know you will find interesting.
As always, I wish you and your companion the best in training and thank you for dropping by.
Thanks,
I use The Shark to reach out to others.Feed Shark
Roy, "HeadTrainer"
Founder of NU DOG K-9 CENTER
email. Roy@NudogK-9.com
Save
Save
Save
Save
Save
Save
Save
Save
Save
Save
Save